Investing in hearing aids requires careful consideration due to the need for regular cleaning and maintenance to ensure they function well. In order to get the most out of your investment, you must maintain it properly. 
Why Maintenance Matters
Think of your hearing aids as you would a prized possession. Just as a car needs regular checks to run smoothly, your hearing aids require consistent care to function at their best. This can extend their lifespan, which can be between three to seven years for high-quality devices.
Daily Cleaning Regime
Your devices are exposed to dust, wax, moisture, sweat, and skin oils every time you put them on. Hence, a daily cleaning regime is mandatory. 
Luckily, most hearing aids come with a Hearing Aid Care Kit that contains the necessary tools for cleaning and maintenance. These tools include:
cleaning cloth, 

cleaning brush with a wire pick, 

a long-thin wire or hole punch, 

spare wax filters, 

removal tools for wax filters 

disposable batteries,

and extra domes
Steps for Daily Cleaning:
For Behind the Ear hearing aids:
Wipe the earmould/earpiece using the cleaning cloth or an alcohol wipe.

Clear the earmould holes using the hole punch for vents and the wire pick for visible wax.

Gently brush over the microphone, buttons, and battery compartment.
For In the Ear hearing aids:
Wipe the earmould with the cleaning cloth or an alcohol wipe.

Brush the faceplate to remove debris and clean the battery compartment.

Replace the wax filter if needed and clear any vents using the hole punch.
For added protection, consider placing your hearing aids in a Hearing Aid Dry Kit overnight to protect against moisture.
Professional Maintenance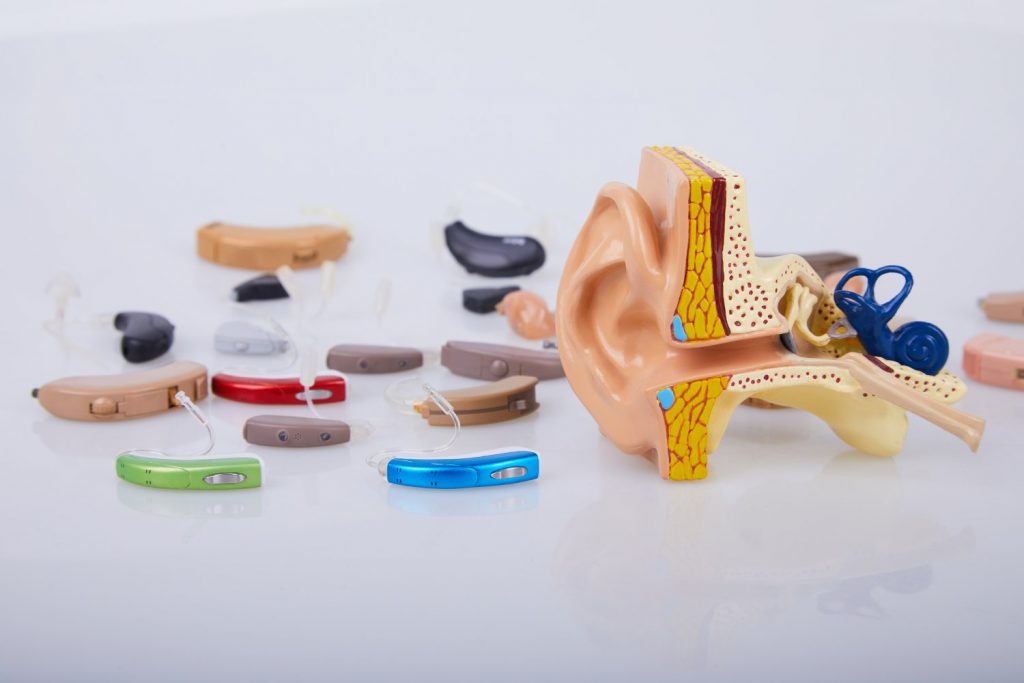 You may think purchasing hearing aids is a one-time investment, but that is not true. After customizing your hearing aids to fit your specific needs, it is recommended that you get your hearing aids professionally serviced a couple of times a year to keep them in top shape.  
A professional maintenance schedule entails checking all the components of your devices and cleaning them thoroughly from wax and dead skin cells. This includes procedures like cleaning the battery contacts, replacing tubing, and minor replacements such as battery doors, microphone covers, or external speakers if necessary. 
In terms of cost and time, there are options, ranging from free services provided by clinics to paid services for advanced cleaning and maintenance of hearing aids. Professional maintenance costs and servicing time can vary based on the manufacturer's guidelines, the type of work needed, the model of the device, and the specific clinic where you choose to have it done. It is always best that you compare costs and choose the best service that suits your budget and time frame.
The best way to maintain your hearing aids is to prevent them from getting damaged. By having your hearing aids serviced regularly, you will not only extend their life expectancy, but you will also maximize their performance. With that in mind, take care of your hearing aids, and they'll take care of your hearing.