Are you tired of your hearing aid batteries dying at the most inconvenient times? Well, fear not! Here, we will look at the different types of hearing aid batteries and learn how to take care of them and how to choose the right ones for your needs. 
Understanding Hearing Aid Batteries
When it comes to hearing aid batteries, there are a few important things to consider. To begin with, you need to know the types of batteries available for your hearing aid. There are mainly two types: disposable batteries and rechargeable batteries. 
Disposable batteries, as the name suggests, are meant to be used once and then thrown away. These batteries come in different sizes, which are denoted by numbers like 10, 312, 13, and 675. So, how do you determine the correct battery for your hearing aid? You can always check the user manual or ask your audiologist for the right battery size. Trust me, you don't want to be stuck with a battery that's too big or too small for your hearing aid.
On the other hand, rechargeable batteries offer a more convenient and eco-friendly option. With rechargeable batteries, you can simply pop your hearing aids into a charger overnight and wake up to a full day of power. No more fumbling around with tiny batteries and worrying about running out of power at the most inconvenient times. Plus, you'll be doing your part to reduce battery waste. 
Changing Batteries: A Step-by-Step Guide
Changing a battery is simple, but a few precautions can make the process smoother:
Safety First:

Always change your battery over a table or flat surface. This way, if you accidentally drop the battery, it's easy to find.

Battery Door:

Find the battery door on your hearing aid and open it. If your Hearing Aid Kit has a battery tool with a tiny magnet, it can help push out the old battery.

Battery Orientation:

Batteries have a flat (positive) side and a raised (negative) side. Ensure you place the new battery correctly.

Activating the Battery:

Before inserting a new battery, peel off its tab. This activates the battery, so only do this when you're ready to use it.

Inserting the Battery:

Use the battery tool magnet to help position the battery correctly. If the door doesn't close easily, recheck the battery's orientation.
Maximizing Battery Life: Tips and Tricks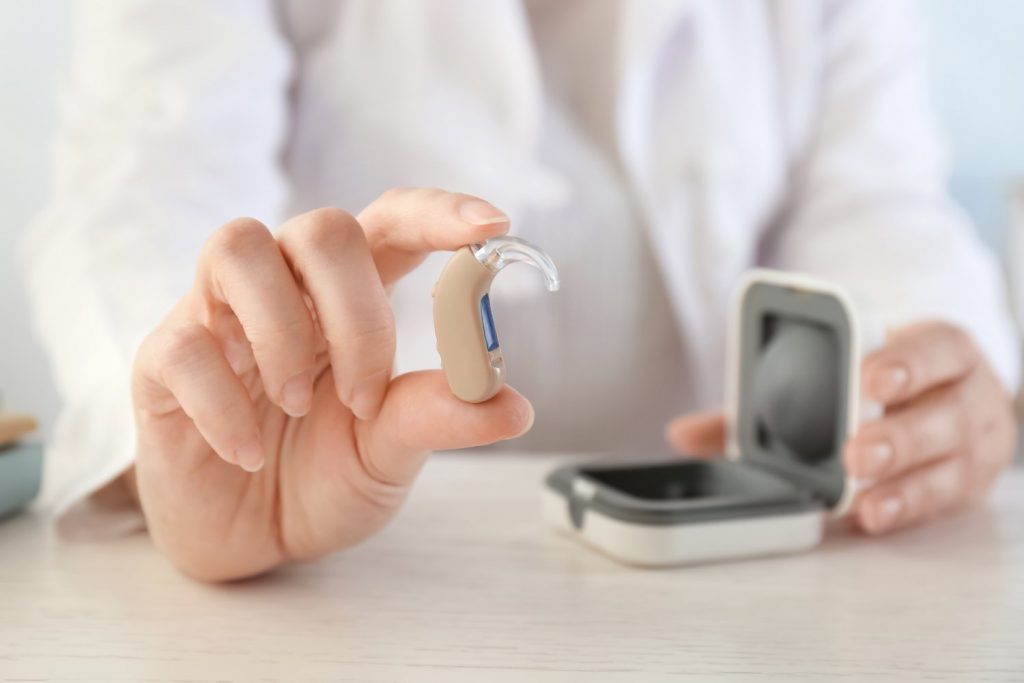 Now, let's talk about maximizing the battery life because who wants to be changing batteries every other day? Not you, that's for sure.  
To ensure your batteries last as long as possible:
Store them in a cool, dry place and always check the expiration date.

After removing the battery tab, wait for 3-5 minutes before using it. This helps activate the battery fully.

Always handle batteries with clean hands to avoid any residue or dirt affecting their performance.

At night, leave the battery door open to allow any moisture to evaporate.

If you're not using your hearing aids for an extended period, remove the batteries.
Rechargeable Batteries: The Future of Power
If you're using rechargeable batteries, here's what you need to do:
Charge your hearing aids overnight, ensuring they're ready to use the next day.

Different chargers have different indicators. Familiarize yourself with yours to know when your hearing aids are fully charged.

Battery life can vary. While some brands promise up to 30 hours, activities like streaming can reduce this time.
For replacements, both your Hearing Clinic and local pharmacies are reliable sources.
Disposing of Batteries: Do It Right
There are no strict regulations about how hearing aid batteries should be disposed of, but it's important to consider the environment when disposing of them. Consult your Hearing Clinic for their recommended disposal methods. 
Your hearing aids are a valuable part of your daily life. By taking care of their power source, you ensure they're always ready to connect you to the world without having to worry about battery life.